I joined HomeExchange platform at the beginning of this year and from that moment I'm so happy about this type of travel that i want to share it. I joined the platform by recommendation of my CEO (he was the founder of knock, one of the companies inside HomeExchange) he has 2 sons and he usually travels doing exchange because is easier.
At the moment I finalized 5 exchanges and I'm very happy about it (Malaga, Torremolinos, Madrid and then France). All my hosts were very clean, polite, and careful with my house, you can check the review section as a hotel.
Join the community sponsored by me!
HOW DOES IT WORK
Create your listing (it's free!), and fill out your profile.
Introduce yourself and choose your favorite destinations
– Promote your home by adding nice pictures
– Don't forget to add your home's availability in the calendar
Become a Member and finalize your exchange
– Once the details are set, the exchange must be pre-approved by your host
– If you're not already a Member, sign up for $150 for a year of unlimited exchanges
Look for homes in destinations that interest you and send exchange requests
– Send personalized messages and respond to other member requests that you receive
– Organize the details of your exchange by communicating with your host via the HomeExchange messaging system
TYPE OF EXCHANGES
Simultaneous: Two families exchange each others' homes, whether simultaneously or on different dates. This is called a "reciprocal" exchange.
NO-Simultaneous: GuestPoints are the key to an easy exchange. What happens if you find another Member with an available home, but that Member doesn't want to stay at your home in return? You can offer them GuestPoints that they can use to go stay at another Member's home in the destination of their choosing! Each Member receives GuestPoints when they sign up and when they host other Members.
Example: You and your family go on a 6-night vacation to France and stay at another Member's home for 100 GPs per night. You would give your host 600 GPs for this vacation. Your host can use these 600 GPs to organize their vacation.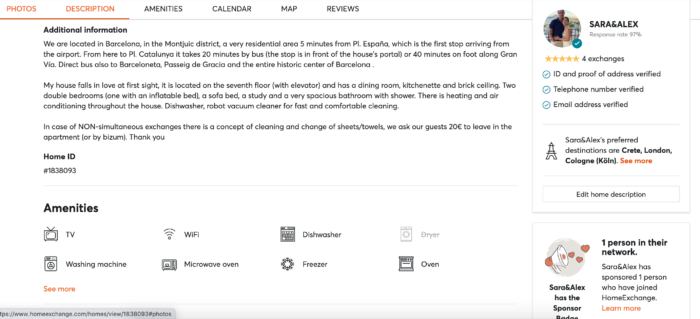 GUARANTEES
Cancellation Protection: compensation of up to 700 €/week if we cannot find a replacement exchange accommodation.
Damage Coverage: if the accommodation does not meet the initial home description, HomeExchange offers an alternative solution.
Damage Coverage: Property damages covered up to £1,000,000.