After the Tokyo food guide, we go to the Kyoto food guide, a guide full of tips on where to eat. Kyoto is a wonderful city, the nightlife, and the best restaurants are concentrated in the center, in the area of ​​Gion. Street food is one of the best options if you don't have time, lunch and dinner times are very different from our Europeans. Another highlight of the city is the desserts, the Japanese love sweets and are a fundamental element in their diets. Explore the streets of Kyoto with a local English-speaking guide and discover the delicious cuisine on this food tour. Book here! Check my 15 days itinerary in Japan to know everything about my Japanese trip.
KYOTO FOOD GUIDE
First of all, you need to know that the lunchtimes are 12-14 and for dinner at 6.30pm-8.30 pm maximum 21. Very often a restaurant closes the kitchen 1 hour before closing, in the area of ​​Gion the times may vary slightly due to the high presence of tourists. Many restaurants do not accept reservations, you arrive, you queue and soon you will be seated. The Japanese are very fast when it comes to eating, ramen is often consumed in less than 10 minutes. Now that we have clarified how restaurants work, I leave you a list of those we have tried and can recommend.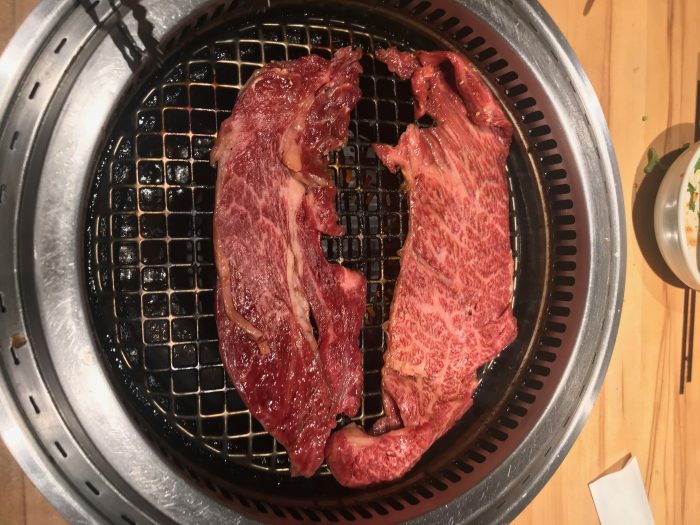 RESTAURANTS
Yakiniku Hiro = wagyu meat specialty, Yakiniku is, in fact, a term used to define the meat on the fire. Average/high price, (menu for two people 40 €) I recommend you choose a la carte, it's much cheaper. Super recommended reservations required 700m from Kyoto Station. Other recommended meat restaurants are Katsugyu Kyoto Station Restaurant and Pound Kyoto Ekimae.
Kichi Kichi Omurice = Omuraisu specialty, a typical Japanese filled omelet. Mandatory booking through the web, low prices.
Yoshiharu = cheap ramen specialty, not found in a tourist area. Great if you have the hotel in the Nijo area. Do you want to know which hotel I chose for Kyoto? Read here!
Tendon Makino Kyoto Teramachi = Tempura specialty, good and very cheap, I suggest you try the clam chowder. No booking accepted closes at 9.30 pm.
CHOJIRO = sushi specialties, a lot of tourism and an English menu with a tablet. The average price / economic does not accept reservations. Sushi is good but nothing special, the specialty is a fish still served alive to eat in a sashimi way (it impresses).
Sushitetsu = sushi specialty, delicious and cheap nigiri (2 un. 200yen), you can try types of fish that you have never eaten raw. Booking is not accepted, closes at 11 pm.
STREET FOOD
The Nishiki Market is where you will find the greatest concentration of street food in the city. It's a small market compared to Tokyo, but where you can find all the classics of Japanese gastronomy. Among the street food you can find I recommend octopus, takoyaki, freshly cooked grilled fish and fresh shellfish.
Apart from the market in various parts of the city, you can find street food, especially near the temples. At the Yasaka Shrine temple, you can find crab skewers and Hachimaki, which is delicious. Another specialty that you can find is fried chicken, the Japanese love fried food but in particular chicken. Served with a sweet sauce, difficult to digest but delicious.
Ice cream is very popular in Japan and is considered street food as in many shops (especially souvenirs) you will find an ice cream machine. The most common tastes are Matcha tea, vanilla, black sesame, mango.
DESSERT
As mentioned, the Japanese love sweets, in particular, ice cream, tapioca smoothies, and biscuits. You can find in all the shops, tourist and not gift boxes of biscuits. Another specialty that you can find is the Melon pan filled with ice cream, I recommend the taste of Matcha tea.
Koe donuts Kyoto = donut and coffee, the average price (a donut 4 €). Very nice location, very good smoothies with tapioca.
Nanaya = ice cream and Matcha tea ice cream specialties. Good and cheap.
Taiyaki shop Matsukaze = Taiyaki specialty, (fish-shaped filled biscuit). It is located in the area of ​​Arashiyama Station, the bamboo forest. Yummy, especially custard cream.
Yojiya Cafe Sagano Arashiyama = French coffee, good coffee (rare being Japan), and French pastry.
(Visited 204 times, 1 visits today)