Warning: Trying to access array offset on value of type null in /customers/8/a/2/mytravelingcam.com/httpd.www/wp-content/plugins/contextual-related-posts/includes/content.php on line 49
With the tour of Gerona over, will go to Figueres, where we'll visit the museum dedicated to the great artist himself. Figueres, the capital of the Alt Empordà region, extends over a river plain located in the interior of the province of Girona.
FIGUERES
Known for being the birthplace of Salvador Dalí, this city of deep Catalan roots offers visitors the chance to visit the Dalí Theater-Museum, dedicated to the brilliant surrealist painter. A cultural offer that is completed with several museums and a calendar full of festivals and events throughout the year.
Just 800 meters from the Dali Museum you will find The Castle of San Fernando which is considered the largest bastioned fortress in Europe. It arose from the need to reinforce the border to protect the Spanish region of the Empordà against the invasions of foreign troops.
It is composed of two enclosures that occupy a total area of 550,000 m2. Under the parade ground there are four large cisterns, which can be visited by inflatable boats. In the castle, the parade ground stands out, with a surface area of 12,000 square meters. The interior enclosure is formed by five bastions of different sizes. Its stables are an impressive ship where 450 horses could be housed. It can be visited since 1997.
DALÍ'S MUSEUM
 The Dalí Museum takes you on a tour through the career of the celebrated Catalan artist from the first works of his formative youth through to his last, more commercial creations. The museum itself was one of Dalí's creations. The artist converted the old theatre of Figueres into a place to display his ever-increasing collection of work.
During the two-hour visit to the museum, you will discover all the details and secrets of Dali's life to help you to understand the complicated mind of the artist. You'll find some of his most famous works here, including Port Alguer, Muchacha de Figueres, Galarina, and La Cesta de Pan, among many others. There are also works of art by other artists such as El Greco, Maria Fortuny, and Ernest Meissonier.
From Tuesday to Sunday from 10:30h to 18:00h – 20€ adult entrance.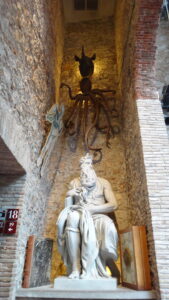 MORE DALÍ PLACES
The Gala Dalí Castle is situated in a small town called Púbol in the province of Girona. Dalí bought this former castle, which was initially in ruins, in the late 1960's as a gift to his wife: Gala. He restored the castle and transformed into a safe place for her to rest. Interestingly, the couple did not live here together at the same time. (10€ entrance)
Dalí's House-Museum, located in a small fishing village called Portlligat, in Cadaqués, served as his home from 1930 to 1982 when Gala died, after which he moved to the Gala-Dalí Castle in Pubol. The house was restored from seven fisherman huts, renovated and enlarged into a rather unique property. (18€ entrance)