Escape from the city it's the best way to spend a weekend, so here my favorite 5 rural weekends in Catalonia. Catalonia is in one of the more complete regions I've ever seen, speaking about beaches and mountains. Rural tourism is one of the best options, especially in autumn and spring.
5 RURAL WEEKENDS IN CATALONIA
Ebro Delta
Garrotxa Volcanic Natural Park
NORTH CATALONIA
Montseny is one of the most popular excursions in the province of Barcelona. Just 1h30 from the city the Montseny park offers trekking of all levels, a beautiful panorama, a perfect day for friends or family. The perfect season to visit it it's autumn, his beautiful colors are one of the best shoots in Catalonia panorama.
The Pantano de Sau or Sau lake hides under its waters a precious secret. Every season when its flow decreases, little by little the old town of San Román de Sau emerges, considered one of the jewels of the sunken towns of Spain.
Getting to the reservoir is very simple, you just have to take the C-17 road towards Vic from Barcelona and then take the detour to Vilanova de Sau. Kayak lover? This is your place, we rent a kayak (with a guide) for 20€, 2h tour. Check KayakSau webpage. It was really amazing, however, the water was so high so we miss the chance to see the church, just a short part of the tower bell.
Garroxtxa is the area famous for his volcanos and medieval villages like Besalu. In this area, they produce one of my favorites wine.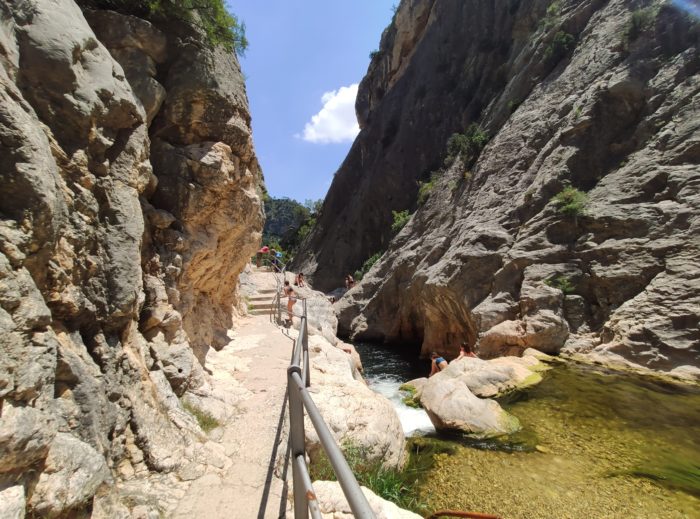 SOUTH CATALONIA
We always talking about the north of Catalonia, but south it's a very beautiful place to spend a weekend too. This time we went to Fontcalda thermal baths, Tarragona province, to spend a few relaxing days. Waterfalls, nature, medieval villages, and wine, the perfect combination.
La Fontcalda is an outdoor mineral-medicinal water spa. Its waters rise at 28 degrees and carry calcium chloride and carbonate, magnesium sulfate, and sodium chloride. An ideal bathroom to enjoy with family or friends in an incomparable natural environment.
(Visited 91 times, 1 visits today)